Scimondo wants to mediate the fascinating world of science to their readers. The name Scimondo is a coinage which is derived form the word science and the Italian word mondo for world.
The following information (Impressum) is required under German law.
Responsible for the content of this site: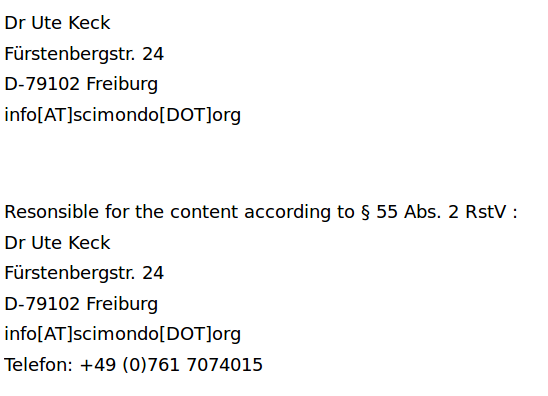 Liability for Contents of Online Information
We make every effort to provide timely and accurate information on this Web site. Nevertheless, errors and inaccuracies cannot be completely ruled out. Therefore, we do not assume any liability for the relevance, accuracy, completeness or quality of the information provided. We shall not be liable for damage of a tangible or intangible nature caused directly or indirectly through the use or failure to use the information offered and/or through the use of faulty or incomplete information. We reserve the right to modify, supplement, or delete any or all of the information offered on this Internet site, or to temporarily or permanently cease publication thereof without prior and separate notification.
Links to Internet Sites of Third Parties
This Internet site includes links to external pages. The respective provider shall be responsible for the contents of any linked external pages. In establishing the initial link, we have reviewed the respective external content in order to determine whether such link entailed possible civil or criminal responsibility. However, a constant review of linked external pages is unreasonable without concrete reason to believe that a violation of the law may be involved. If we determine such or it is pointed out by others that an external offer to which it is connected via a link entails civil or criminal responsibility, then we will immediately eliminate any link to this offer. We expressly dissociates ourselves from such contents.
Copyright
The contents of this Internet site are protected by copyright law. Links pointing to the content of this site are welcome.
© Copyright 2014 Dr. Ute Keck